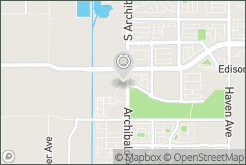 Ontario, CA
Location: Archibald Ave. & E. Grand Park St. Ontario, CA Project Features:
Retail opportuniti es, including a potenti al drive-thru, are available at Parkside, a neighborhood within Ontario Ranch.
Ontario Ranch is a beauti fully master-planned residenti al resort-style community with 46,000 new homes in fi ft een diff erentneighborhoods.
The growing populati on in Ontario Ranch and the surrounding areas has increased demand for retail products and services.
Ontario Ranch is located near the 60 and 215 freeways, adjacent to Eastvale. Parkside community is located on S. ArchibaldAvenue with 39,320 CPD at the intersecti on of Ontario Ranch Rd. & S. Archibald Ave.
Excellent demographics, with approximately 98,000 people currently residing within a three-mile radius with an average incomeof $132,035.
Strong median home values of $1,171,996 within a three-mile radius.
Project Details